About Olecule
Brand Background
Olecule is invented under the research of latest technology to bring the ingredients efficiently down into our skin for specific skin imperfection.MD Research combines these plant based natural ingredients with the latest skin care breakthrough technology to create a unique skin care formulation lines pushed new boundaries in skin rejuvenation and achieved a new level of efficacy.
Olecule is formulated to work on every skin layers to protect and restore the functions of skin cells. Cutting-edge technology is being used to formulate the unique products and to bring the effective ingredients into skin. Unique formulation specifically tackle the premature signs of aging caused by environmental damage to skin, whitening skin from hyperpigmentation and moisturize skin.
Olecule has been dermatologist tested, non-comedogenic, non-irritating, allergy-tested and no animal testing.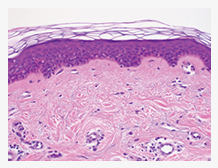 Dermis
Chronic UV exposure is the primary cause of premature aging of skin, Free radicals induced during the oxidative process damage the collagen layer in skin.
Ascorbic Acid – neutralizes the free radicals formed and delays the process of aging remarkably1
Kinetin – suppresses the formation of free radicals by 40%2
1.Journal of the American Academy of Dermatology, June 2003
2.European Journal of Pharmacology 465 (2003)281-287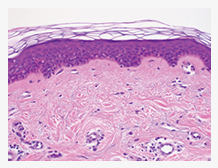 Stratum Corneum
Intercellular lipids composes of Ceramide, Free Fatty Acid and Cholesterol; which maintain the barrier properties of the skin from extrinsic stimulation and prevents water loss.
Ceramide - prevents transepidermal water loss, such function generates benefit for sensitive skin and enhances skin supple for a smoother and more radiant appearance.3
3.Arch Dermatol Res, (1989)281:45-51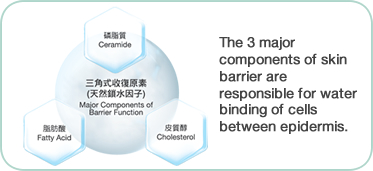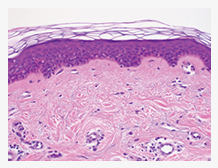 Epidermis
Loss of collagen and elastin lead to the appearance of pre-mature aging (e.g. slacking and fine lines)
Hyaluronic Acid – multi-molecular weight, provides hydration to skin as well as support to firm dermal cells construction leaving the skin moisturized and silky.

Back To Top